'10 Things I Love About You.'
Price: FREE
Don't get excited, we're not talking about a 10 Things I Hate About You re-boot. Although, now we've brought it up, what's Julia Stiles doing these days?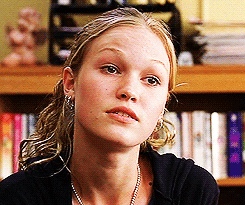 But seriously. If you're strapped for cash, this homemade idea is a sweet and simple way to bring a smile to your partner's face.
'I thought you said it shouldn't be cheesy!' we hear you cry.
Well, it doesn't have to be.
For a lot of couples, it's the small details they love about one another, like the funny way they sneeze, their awkward dance moves, or their ability to make the perfect cup of coffee.
Compile all these little details into a list for your partner and make them feel seen and appreciated.
You can make different variations on this idea – for example, what about a 'Thing I Love About You' for every year you've been together? 'Happy 5th Anniversary! Here are 5 Things I Love About You.' If you're worried that this sounds too short, you can always fill out the page with illustrations, or if you're not so artistic, pictures of the two of you together.
Obviously, you'd never forget your anniversary – but one of the benefits of this gift is that it's easy to whip up last minute. We won't tell if you won't…